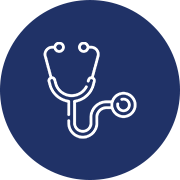 CONTACT INFORMATION
---
A nurse practitioner is trained to assess patient needs, order and interpret diagnostic and laboratory tests, diagnose illness and disease, prescribe medication and formulate treatment plans. NP training covers basic disease prevention, coordination of care, and health promotion. The core philosophy of the nurse practitioner role is individualized care that focuses on a patient's medical issues as well as the effects of illness on the life of a patient and his or her family.
---
I was born in Denver, Colorado but moved to Albuquerque, New Mexico when I was about 6 to be close to my amazing grandparents. I have two brothers and I am the middle child. I went to Albuquerque High school and played the violin in the Jr. Symphony Orchestra. I also had a brief stint running track and jumping hurdles and was a cheerleader. After I graduated high school, I moved back to Denver to attend the Art Institute for interior design. I met my wonderful husband and we made beautiful windows together, well I sold window coverings and home décor and he installed them. We moved several times during the early years of our marriage, had 2 beautiful babies and moved to Pocatello in 2006.
I was ready to give in to my love of caring for others in a new way. After moving to Idaho, I briefly worked as a certified nursing assistant at Pocatello Care and Rehab, then I began my long journey at the Idaho State Veterans Home. While continuing to work; I enrolled in the nursing program at Idaho State University where I graduated with my Bachelor of Science in Nursing in 2010 and became and RN. I kept working at the Idaho State Veterans Home as a charge nurse and that is where I had the pleasure of meeting Dr. Warren Willey. I stayed in school and got my Master of Science in Nursing in 2012 and became a Family Nurse Practitioner. While I was in school, I convinced my NP mentor, Randy Vawdrey to hire me at Physicians Immediate Care and I have been blessed to work with this fun and fabulous crew since 2012. Dr. Willey and Randy recognized my talents and love of geriatrics and I was able to serve as a Nurse Practitioner at the Idaho State Veterans Home and at Bingham Memorial Long term care and Rehab for several years while practicing urgent care in the clinic. Being a provider has allowed me to practice and grow in the fields of geriatrics, family medicine, women's health, sexual health & hormones and focus on weight loss, I love it all.
Being a Nurse Practitioner is about promoting good health and preventing disease, and when illness happens, identifying and treating disease to help people recover and hopefully return to their prior healthy status.
I love working with my patients to set and achieve their health goals to prevent disease and treat illness through lifestyle changes, treatments, self-care and medications. I feel it is important for patients to have an active roll in their health decisions. I focus on ways they can improve their health, weight, hormones and lifestyle. I can guide them, but it is up to them to take the reigns and make it happen. This is not always an easy road, but I love seeing them succeed because of the hard work and dedication they put in. I love working in such a small community because people talk to each other and support each other. I get so many great referrals from people who have been able to find their health and balance and I am grateful to all my patients for their support of me and our expansion into primary care. I am also thankful to work with such an incredible team of people that care as much about the health and wellbeing of our community as I do.
Outside of work I love being a mom, my children bring me so much joy. I love watching them participate in school sports and excel in their academic, and medical programs. I like cooking and baking with my daughter, I'm not that great of a cook but she saves the day. I like hanging out with my son and eating sushi, my husband is not a fan so it's a mother-son thing. I like hiking, camping, exploring and experiencing new things. The best part of my day is coming home and hanging out with my husband, watching Netflix, playing card games and just talking about our day. I also am blessed to have amazing friends and family (aka: super cool brother) to go with me to concerts at the wellness complex and on hikes to new cool places, who teach me to shoot a bow or a gun and laugh at me lovingly when I am too scared to raft at Lava. I think nature is good for the soul and I thrive outdoors in the summer but get a little hermit like in the winter, thankfully I have my cats to keep me warm. I dabble, with the help of my little brother in a blog, but for now that is just a work in progress. I constantly set new goals; I think it helps to keep me feeling young and excited about what life has to offer.