Physicians Care Centers is currently providing limited patient care as we recover from a cyberattack. We are open and paper charting. We are doing our best to call patients directly to confirm or reschedule any upcoming appointments.
To get in touch with our Pocatello team, please call (208) 478-7422.
To get in touch with our Chubbuck team, please call (208) 237-7911.
Click here to learn more.
We apologize for any inconvenience this may cause you.
Thank you!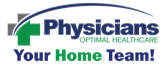 You're In The Spotlight
Physicians Optimal Healthcare is a medical center completely designed and centered around you; the patient. The healthcare system is always changing, however our vision remains the same; to break down the invisible barriers between patients and providers and guide you through the often burdensome terrain. As an alignment to increase your quality of care, we've adopted a Primary Care Team system that takes you from the feeling of being on the sidelines; to centerfield.
Our Primary Care Teams expand a patients' access to care by giving them the support of an entire team rather than one individual. Primary Care Teams are in constant dialogue about your specific needs, meaning additional health services will be delivered to you effectively and efficiently. The comprehensive nature of your health is now carefully handled by the expertise of an entire team that have access to both our Physicians Optimal Healthcare and Physicians Immediate Care clinics to provide a full spectrum of services that range from urgent care to primary care; and everything in between! Your health isn't one dimensional. Neither are we.
Based on your needs we can provide a Primary Care Team that starts from our admissions, to our nurses, to Physician Assistants, to the doctors that are eager to see you, build a relationship with you, and care for you. You're our MVP. And this patient-oriented system will ensure that you take the trophy home!