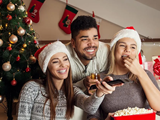 Christmas isn't just right around the corner – it's here! Those with Amazon Prime may still be luck but for the rest of us, we're either going to be elbow to elbow with late shoppers this coming weekend or sitting at home relaxing because you did all your shopping weeks ago. The holidays are simply amazing with their ability to kindle old memories with friends and families, make us feel nostalgic with just a quick whiff of some childhood scent, or invigorate our efforts to be more welcoming, kinder, and loving. Bryan Adams was definitely on to something when he penned the lyrics for Something About Christmas Time.
Whether it's your first time spending Christmas with the in-laws, or far away from family, or trying to start some traditions, I asked the staff what some of their favorite activities are and I hope it can give you some ideas!
Nicole Harper from our Immediate Care center suggests sledding with family!
Lana Borgholthause,PA-C. loves to crank up the Karaoke machine with her family and belt out as many Christmas songs as they can.
and myself – I like to watch Christmas Episodes of The Office or Futruama and it's a requirement to watch Elf at least twice before the 25th!
If these activities aren't your particular cup of tea, I've scoured the web for some other fun traditions!
Aside from our favorite activities, I also asked the staff what they look forward to the most during the holiday season. The results are in my beautifully designed wreath-pie chart. From myself and everyone here at the Physicians Care Centers, we wish you a Merry Christmas and Joyful New Year!