Mental Health Awareness Month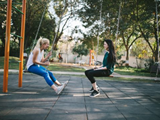 May is recognized as National Mental Health Awareness Month. We're overjoyed that in recent years Mental Illness has crept from the background and is now being discussed, noticed, and taken seriously. We knew we needed to do something in honor of National Mental Health Awareness Month but couldn't figure out exactly what we wanted to do. During a session with the counselors, it was unanimously decided that mental health and mental illness really begins with a conversation… so why not take the conversation we're having inside the clinic out to the community.
We're thankful for the volunteers who bravely faced the camera and answered some of our questions about Mental Health. We invite others to mirror their bravery in starting – and more importantly listening – to the conversation about Mental Health.