Physicians Care Centers is currently providing limited patient care as we recover from a cyberattack. We are open and paper charting. We are doing our best to call patients directly to confirm or reschedule any upcoming appointments.
To get in touch with our Pocatello team, please call (208) 478-7422.
To get in touch with our Chubbuck team, please call (208) 237-7911.
Click here to learn more.
We apologize for any inconvenience this may cause you.
Thank you!
Answering Your Questions About Primary Care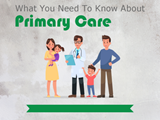 What exactly is Primary Care? Do you have a fear of picking up the phone and making a doctors' appointment for the first time? Or maybe you're wondering what will happen to you if you never see the doctor? There are a lot of questions about healthcare and a lot of discussion that can go in many different directions. We've tried our best to compile some of the key information in regard to Primary Care and hope this eases the apprehension some feel when the word "healthcare" pops up in a conversation.